Some of these books are listed under other resource categories such as Visual Storytelling. If you know that your medium is the Graphic Novel, here is my very-short-list of books not to miss.
Also see Miscellaneous Reviews and Visual Storytelling for additional items related to this topic.
Books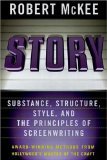 by Robert McKee
In the last years of the twentieth century, McKee's voice boomed out over the world of story like a prophet and still carries on. He teaches the old craft that audiences have always wanted, and he does it with such authority and force that his seminars are epiphanies for most storytellers. The book can't match his performances, but it's still excellent: the only 400+ page book I've ever read that I wished were 800 pages.
McKee's material is mostly concerned with screenwriting, but the principles apply to graphic novels and children's books as well. And even if you don't know your medium or genre yet, his teaching is captivating. One of my students complained: "I started highlighting the best parts in yellow so I could read them again, but it was no good — I was just highlighting the whole book." —mv
Click to buy from Amazon.com
---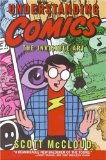 by Scott McCloud
I'm sorry to say that Will Eisner's famous book on Comics & Sequential Art took me a month to read and did nothing for me. But when I read Understanding Comics I walked around in a daze of enthusiasm for the medium. Scott McCloud wrote the most insightful book on Comics and Sequential Art I know. He won't (in this book) teach you how to write or draw comics, but he will introduce you to them so you'll see their strengths and limitations, and he has a gift not only for explaining difficult ideas, but for igniting comic book storytellers' passions. —mv
Click to buy from Amazon.com
---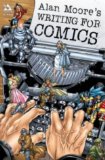 by Alan Moore
This is a short book. You could read it in one sitting. But don't. He wrote it so we could get an idea of how he goes about his work. Of course I'd like to know more, like how he arranged his studio when he wrote Watchmen — did he cover the walls with diagrams and maps to keep track of the subplots, or did he keep most of it in his head? He doesn't tell. But he tells enough to resolve some of the mystery of a master craftsman. I found most helpful what he explains not to do — attitudes that get in the way of creativity vs. attitudes that foster creativity. You will learn a little about story structure from him — mostly that there are many different structures and you find them as you work. But don't go to him for the mechanics of story — you'll get that elsewhere. Go to him to hear the voice of authority speak briefly but brightly about how he gets his talent into the work. —mv
Click to buy from Amazon.com
---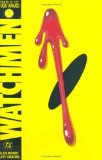 by Alan Moore and Dave Gibbons
Believe the hype enough to give it a try (and I'm referring to the book — I haven't seen the movie, nor will I). I tried to read it in the late 80's when it was new and hot. I tried again in the 90's and gave it up. I hated the vigilante protagonist and I disliked the writer's attitude. But in 2004, in response to a dozen students' admonishments, I finally carried through. Wow. When you read it, read it in one week, and read all of it. If you skip over the side articles and journal entries, no wonder you don't appreciate it!
Watchmen is an epic graphic novel that delivers. It is classic story structure, where the shape of the story is the big deal. There has been much (too much) written about Watchmen, but Alan Moore himself has offered the most insightful observations, including the unforeseeable bad effect it had on comic writing in that it didn't inspire stories that stretched the limits of the form and medium, but imitation of the violence and what Moore calls an "intellectual posture". Shame.
Some people don't like Dave Gibbons' artwork. One student said "The story's great, the artwork sucks!" I wouldn't put it that way. Dave Gibbons' style seems dated to many readers — he has a slick line reminiscent of the best comic artists of a previous generation, but the bias against it is like the bias against a good film-noir thriller because "the acting is fake — people don't talk like that!" Gibbons made great decisions and his technical skill is top-notch even if his line work is a bit synthetic. And by the time you submit to it, he pulls out the stops and gives some powerful surprises.
Here's why you should read Watchmen: it sets a standard. It shows you what a graphic novel can be. If anyone of us ever achieves a story this involving, complex, and insightful, we will find an audience. So let's aim high. And instead of imitating Alan Moore's voice and violent imagery, imitate his talent and commitment to the integrity of the story. —mv
Click to buy from Amazon.com
---
Marshall is a participant in the Amazon Associates program and may earn a small commission on products purchased using these links. The product price is the same whether or not you use these links, but by using them, it helps offset the cost of running this website.