Some of these books are listed under other resource categories, mostly in the anatomy section. That makes sense. When you can draw the human figure "in 3D space" you can draw just about anything in 3D space. But this section focuses on all-around draftsmanship, so here's where you'll find my reviews of perspective books as well. It's not a complete list. I'm reading a bunch of recent releases, some of which are impressive. But I've listed everything you need to master old-school drawing.
Books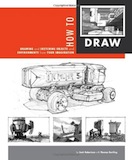 by Scott Robertson with Thomas Bertling
If I'd had this book thirty-five years ago, it would have spared me years of frustration. Scott and Thomas explain basic facts about perspective, then build from basic facts into the most complex drawings imaginable. It's centuries-old knowledge, it's reasonably clear, and it's worth twenty times the price. But be warned – it's not easy. It takes months of attention. The reward is that you'll learn all the mysteries of classic draftsmanship in months rather than decades. —mv
Click to buy from Amazon.com
---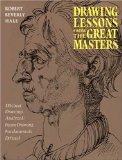 by Robert Beverly Hale
The best drawing book I know. I've read it seven times. I understood it the first time, and I still benefited from it the seventh. A solid "ten." 100 master drawings analyzed simply, clearly and with deep insight from a man who understood classic draftsmanship as thoroughly as anyone in the 20th century, and who taught it as well as anyone in any century. Unfortunately, the sequel called Anatomy Lessons from the Great Masters doesn't compare — it has great pictures but the text is lifeless reportage — Hale didn't write it even though they used his name. —mv
Click to buy from Amazon.com
---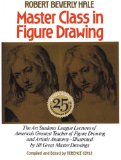 by Robert Beverly Hale
This book is a "ten" with flaws. It was taken from Hale's lectures at the Art Students League and has errors in it because the transcriber didn't understand the material. But it's still a great book. The writing is entertaining and enlightening. More than worthwhile. —mv
Click to buy from Amazon.com
---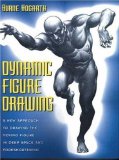 by Burne Hogarth
Don't try to read it — you'll just get frustrated. Look at the pictures and you'll learn how to use form in drawing the figure. The anatomy is stylized to the point of looking artificial — more like plastic action figures than real humans — but it is strong on showing how classic draftsmanship can be creatively applied to the human body. —mv
Click to buy from Amazon.com
---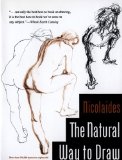 by Kimon Nicolaides
This presents a very different approach to drawing than what you find in the previously listed books. Nicolaides was concerned primarily with the "guts" of art — keeping artists' attention on the feelings that prompt the drawing. His exercises are the best I know for developing the sensitivity of an artist, but they are inefficient for learning to master form in space. Nicolaides taught at the Art Student's League in New York at the same time as Bridgman, and he deferred to Bridgman's teaching as a resource for applying perspective to anatomy. I use Nicolaides material when teaching "Life" Drawing, but not when emphasizing anatomy or form. —mv
Click to buy from Amazon.com
---
by Joseph D'Amelio
by Ernest Watson
THE PROBLEM OF LEARNING PERSPECTIVE: Draftsmanship is, at a technical level, mainly about perspective. If you want to "draw" in the classic sense of that word, eventually you have to confront this fundamental discipline that is so difficult. There are many books on perspective that can drive you crazy, many more that are mediocre or that only show you how it applies to boxes and buildings, and a few that are simple and clear or that show you that it applies to organic forms as well. The two books Perspective Drawing Handbook by Joseph D'Amelio, and Creative Perspective by Ernest Watson are the best I know. They're understandable. Begin with D'Amelio's. He shows how to draw boxes and buildings. Watson's is advanced and more demanding, but he shows you everything you need to know to draw anything for the rest of your life. —mv
Click a cover or title to buy from Amazon.com
---
by George Bridgman
Bridgman was Robert Beverly Hale's teacher and also Norman Rockwell's! His drawings are sometimes inconsistent, often sloppy and difficult for beginners to decipher, but in spite of such flaws you can learn a lot about how the forms of the figure "fit together." Plus, they are beautifully expressive drawings. Constructive Anatomy and The Human Machine are good to start with because they are fairly clear. The Complete Guide to Drawing from Life is a compilation that gives you the best of the smaller books. I've learned as much about how to draw the structure of the head from Bridgman as I have from any other source. —mv
Click a cover or title to buy from Amazon.com
---
by Preston Blair
This legendary animator and teacher demonstrates the basics of classic draftsmanship clearly enough for kids to understand, authoritatively enough for masters to revere (his ellipses to construct cartoon-heads reveals his rigorous training). Even if you don't intend to animate, you'll get more valuable drawing wisdom from these "cartoon books" than from a hundred college textbooks that neglect the core method of illusionary drawing. Preston Blair entertains and teaches by combining childlike drawings with grown-up skills.
You can see sample pages and links to free downloads of the original version at animationarchive.org. —mv
Click a cover or title to buy from Amazon.com
---
Marshall is a participant in the Amazon Associates program and may earn a small commission on products purchased using these links. The product price is the same whether or not you use these links, but by using them, it helps offset the cost of running this website.