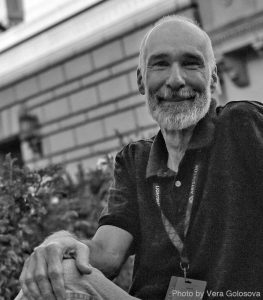 I was born in Southern California and have lived here all my life. I was raised on the Bible, The Beatles, and 1960's television by parents who suspected incompatibility between the former and the latters. I read MAD and Dr. Seuss until I memorized them, listened to out-of-the-mainstream records over and over and over and never grew tired of them, and from as far back as I remember, loved stories, songs and pictures.
My parents sent me to a small private school in Anaheim from kindergarten until I graduated high school in 1976 with a class of about thirty. Then I went to Fullerton Community College where I felt lost among twenty-thousand students. But it was at FC that I studied advertising illustration, met my best friends, learned enough craft to make my living as an illustrator, and in 1984 I returned to teach part-time and have been there ever since.
My second career came from former students who hired me to teach their peers and staff, introduced me to new clients, and gave me opportunities for collaborative relationships that I would not have found on my own.
I'm now an itinerant teacher, over-employed without an advanced degree, who never aspired to teach, whose fuel has always been a love of mastery and the arts. While I train others, I hope to train myself for another round of the best work I can offer — work that aspires to the energy, passion, glory, skill, and mischief of the Masters.
Photo by Vera Golosova
www.instagram.com/veragolosova_art/